Günter Geyer Award for social conscience
Doing good together
Prevention and assistance in the social and health sectors, cooperation with NGOs that work with disadvantaged people, and the renovation of a school in a rural area - all activities that pursue one goal: namely, to help. It is precisely such commitments that are honoured with the "Günter Geyer Award for Social Conscience". Since 2012, the award, named after the Chairman of our Supervisory Board, has been awarded to VIG insurance companies that have made exceptional contributions to society through their activities or the activities of their employees.
As in previous years, the 2022 award winners are characterized by outstanding social commitment: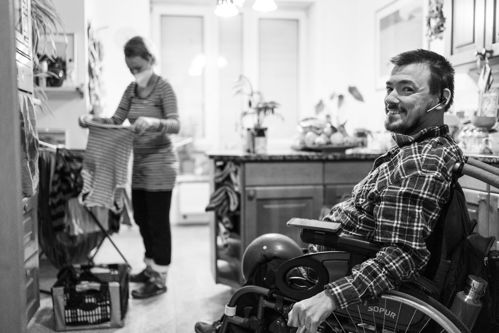 The extraordinary social commitment of Czech Kooperativa has many faces. The company has already been honored twice for its social activities with the Günter Geyer Award for Social Conscience. In this year, the first place went once again to Czech Kooperativa. The company has already established its own foundation in 2013, with which Kooperativa has since been helping civil society. The Kooperativa Foundation is particularly active in the social and health sectors and supports organizations that deal with the prevention and care of mental health, For a long time, they support organizations that help people with disabilities to live a dignified life in the home environment.
The award was won, among other things, for cooperation with non-profit organization Nevypust duši. The collaboration emphasizes prevention, inclusion of teaching about mental health in schools and public education. A partial goal is also to open a public discussion about mental health as a normal part of human life.
Kooperativa wants people with disabilities to be able to live a free life and not be forced by the system to go to institutions. In cooperation with NGO Asistence they support pilot program 5th GRADE (pátý stupeň). Kooperativa is convinced that all people with disabilities should be able to use the support of other people to the extent that they can live freely. The current system does not allow this, so Kooperativa paid for five people personal assistance as many hours of assistance as they need and the company continuously monitors how their lives have changed. We will obtain data to promote systemic change - the introduction of the fifth individualized level of care allowance.
he Czech Paraplegics Association is also supported by Kooperativa: Under the project title "BanalFatal! the association uses lectures in schools to the severity of spinal column and spinal cord injuries caused by supposedly banal situations – such as jumping headfirst into water, slipping or falling down.
In addition, Kooperativa serves customers with hearing impairments through a special service which transcribes telephone calls and thus improves communication between customers and employees.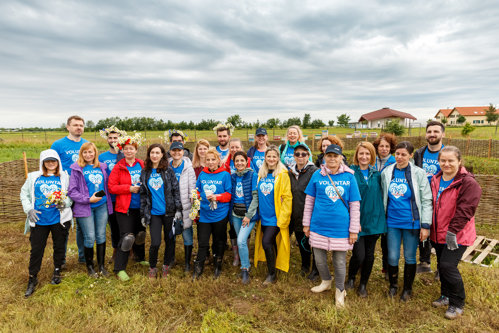 Social engagement is a leading priority at BCR Asigurări de Viaţă. The Romanian Group company regularly assists the Red Cross with its blood donation campaigns and has worked particularly closely with the organisation during the coronavirus pandemic. One example of BCR's support was an initiative to set up a mobile Covid-19 vaccination centre for the people of Călărași district in the south of the country. The aim was to provide easy, unbureaucratic access to vaccinations. 1,700 people were vaccinated in the first three weeks alone. The centre visited 15 different communities and Red Cross volunteers were able to speak to over 5,000 people. BCR also provided support for the wide-ranging information campaign that accompanied the service.
Since 2016, the company has been cooperating with Ateliere Fără Frontiere, an organisation set up to help people from marginalised groups to access the labour market. In one of its projects, titled Edu Click, participants from the groups refurbish old computers as part of an employment and social reintegration programme. The refurbished PCs are made available to children from disadvantaged backgrounds so they could take part in online lessons. BCR Asigurări de Viaţă donated 100 old computers, which Edu Click distributed to eight different schools, putting smiles on the faces of some 1,200 pupils. The Bio & Co farm in Ciocănari in the county of Dâmbovița is another initiative which helps socially disadvantaged members of the community to find their feet – such as those affected by long-term unemployment or addiction problems. 24 BCR employees helped to put up a new fence at the farm, which sells home-grown organic vegetables, as part of the Social Active Day programme.
The company also supports good causes in the capital Bucharest, including covering the costs of vehicle insurance for a free transport service for disabled people. Unfortunately the service has now ceased operations.
BCR Asigurări de Viaţă showed off its green credentials by helping with the upkeep of hiking routes in the Brașov region, providing financial support as well as Social Active Day volunteers. The company is also a partner in an "adopt a tree" initiative which aims to expand woodlands in southern Romania. BCR's involvement includes volunteering within the scope of the Social Active Day programme. The main focus of the project is planting belts of woodland that provide protection against extreme weather and improve agricultural output.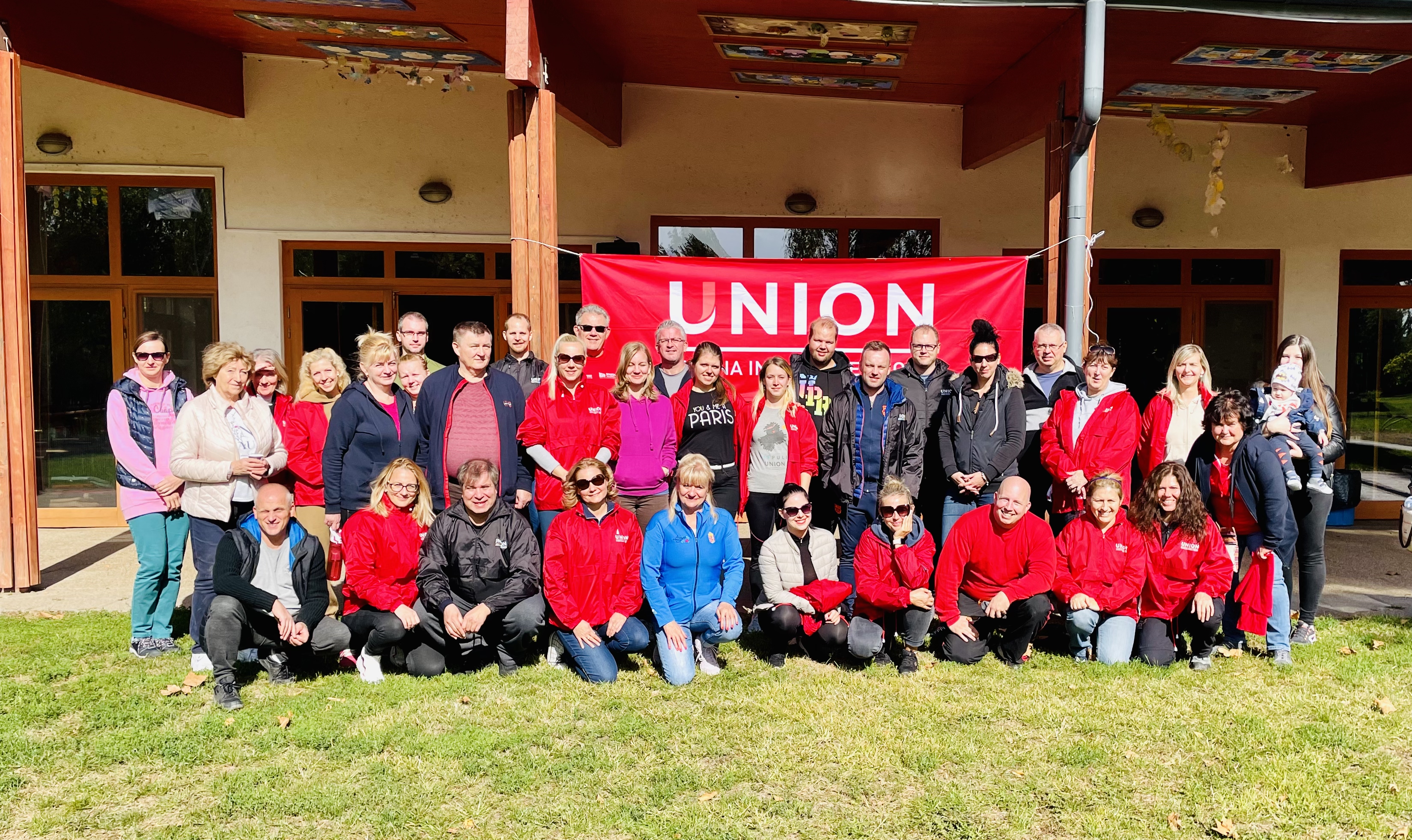 In its charitable work, Hungarian Group company UNION Biztosító places a special emphasis on forging long-term partnerships as well as supporting children and young people. It has been working with charities Nem Adom Fel Alapítvány (Never Give up Foundation) and KézenFogva Alapítvány (Hand in Hand Association) since 2016. Nem Adom Fel Alapítvány helps young people with disabilities to access the job market. Its work also includes providing childcare, meals and activity programmes for children who are suffering from poverty. A particular focus of UNION Biztosító's partnership with the foundation is the Never Give up Café and Bar, where 90% of the staff have disabilities. The company also provides backing for the foundation's centres and camps for young people with disabilities. KézenFogva Alapítvány runs trainee programmes and workshops designed to assist 15-24 year-olds who have special needs during the difficult transition between school and working life.
Established in 2001, the organisation Bátor Tábor works with seriously ill children and supports families who have suffered the loss of a child. It is part of the SeriousFun Children's Network set up by Paul Newman and throughout the year organises free therapeutic leisure-time activity programmes for children with serious illnesses. UNION Biztosító has been helping Bátor Tábor in a variety of ways for over 15 years now – providing Social Active Day programme volunteers for example.
The company also supports KórházSuli (Hospital School), a charity that helps children who have to spend long periods in hospital or at home with their school work. The teachers and trainee teachers who provide the tutoring are all volunteers.
On top of all this, UNION Biztosító has set up an internal ambassador programme. Its staff can apply to become ambassadors on issues that are particularly important to the company, such as CSR, health, diversity, climate change and animal welfare. The ambassadors are the faces of the programme and they have an impact that extends far beyond the intranet. The UNION Ambassadors are chosen in elections and serve for one year. Examples of the initiatives that they have organised include litter collecting on Budapest's Gellért Hill, an employee bike tour, first aid training, visits to an animal shelter, and collecting donations of old clothes, books and toys for people in need.
On the right track
Owing to the large number of impressive entries in 2022, the decision was made for the first time in the history of the Günter Geyer Award for Social Conscience to present additional prizes. They were awarded to other VIG Group companies who also did outstanding work in support of good causes that had a valuable impact in the community.
The recipients include Slovakian Group company Kooperativa, which set up its own foundation in 2020 and is committed to helping children and young people.

Wiener Osiguranje in Bosnia-Herzegovina also won one of the awards for its dedication to improving children's lives. The company equipped 13 schools in 12 different towns and cities with a variety of educational materials as well as items of furniture. Its staff made a huge contribution to the initiative, with employees volunteering in a number of ways as part of the Social Active Day programme, for instance by painting classrooms.  

Makedonja Osiguruvanje is a long-standing partner of the charity SOS Children's Villages and also works with the organisation Project Happiness, whose activities across the country improve quality of life and open up educational and learning opportunities for disadvantaged children.
The aim of the three additional awards, which came with prize money of EUR 10,000 each, was to encourage the winners to keep up their good work. As with the main awards, the prize money must be earmarked for good causes, and is provided in its entirety by Wiener Städtische Versicherungsverein.
Important and the right thing
Not a question of if, but of what for. It goes without saying that we are committed to social projects. Because values and principles that we consider to be important and the right thing at VIG are also something that we want to promote outside the office. That is why our main shareholder, Wiener Städtische Versicherungsverein, and the Vienna Insurance Group support many initiatives, measures and campaigns.