Environmental and social investment criteria
VIG manages around EUR 34.4 billion in investments (for more information please visit our Interactive Key Figures Tool). The Group makes it an absolute priority to invest the premium payments in a way that ensures it can fully meet its obligations to customers at any time. It therefore focuses on security for investments, with a preference for good credit ratings and, as a result, stable returns. At the same time, however, VIG  also takes responsibility for the social and environmental effects of its investments.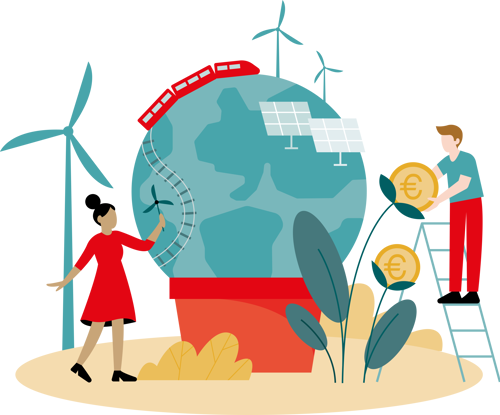 Investments in line with sustainability principles
ESG criteria for investment decisions
Social and environmental criteria have been deliberately taken into account in the investment process since 2019. In 2023, this approach underwent a comprehensive renewal. Existing criteria were tightened and new ones added. The current selfimposed commitments are presented below.
Financing environmentally friendly projects
Continuous increase of investments in green bonds
VIG's climate change strategy also specifies that the share of environmentally friendly investments is to be increased. Green bonds, that is, bonds used to fund environmentally friendly projects, are one example of this.
 
2022
2021
2020
2019
2018
Green Bonds
(in EUR mn)
829
435
238
154
70
VIG was the first insurance company in Europe to issue a benchmark sustainability bond
VIG issued a EUR 500 million sustainability bond in March 2021. Around 50 institutional investors in twelve European countries subscribed to the bond. More than three quarters of them manage portfolios that explicitly focus on sustainability. In addition to improving the long-term financial planning of the Group, the capital is also being used for investments in both social and environmental projects. This makes VIG the first insurance company in Europe to place a sustainability bond – not just a green bond focusing on environmental projects – on the market. The net proceeds from the issue are being used for projects in the areas of renewable energy, green buildings and clean transportation, as well as social projects for more affordable housing and better access to basic services such as education and healthcare.
Controlled investments
A sustainability bond framework developed in-house establishes clear criteria for which green and social projects the capital can be used. Sustainalytics, an independent ESG rating agency, assessed the framework as credible and effective. A sustainability bond committee ensures that the capital is used in accordance with the framework. It consists of representatives from different areas of the Group, such as Treasury, Asset Management, ESG and Compliance, and decides whether the capital from the bond can be allocated to a project.
Promoting sustainable, affordable housing
Investment in the real estate start-up Gropyus
The company is located in Vienna, and plans, builds and manages buildings. Sustainable materials, especially wood, reduce the environmental footprint, while automation and digitalisation reduce costs. Gropyus aims to make sustainable and, in the future, affordable housing possible for everyone and currently operates in Germany and Austria. As part of the VIG investment, these activities are to be expanded to other countries in the CEE region.
Fivefold responsibility
Five strategic focal points ensure the sustainable orientation of the company's activities.
Our sustainability strategy